I found a cake design with this tree and a verse from Psalms 1:3, which I felt that it's for our Pastor Tim and our dear Cell leader - Yong De, they shared the same birthday :D
Haha, I am no 'super woman' but was really quite tired after doing the other 2 cakes and cuppies - it was nearly 6.20pm when I started to bake the carrot cake., after it was completely cooled - I started to work on it at about 10pm - 12.30am.
When I thought I was almost done, I found that I was not satisfied with it.
It was initially a 2D tree and plain without the lambs .. I was too tired but just need to rest , however I was able to wake up at 4.30am to re-do the tree and moulded the lambs .. and was quite pleased with it, it was all God' grace and strength given to me to be able to complete it.
The cake was distributed and finished - Praise God that they all love it ..
A blessed birthday to our dearest Pastor and Bro Yong De .. many thanks to you and we are all so blessed to be under your love and care, may God bless both of you on your special day. Hallelujah!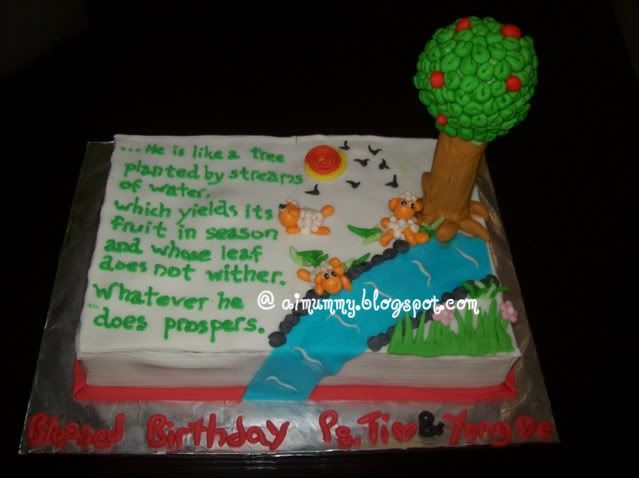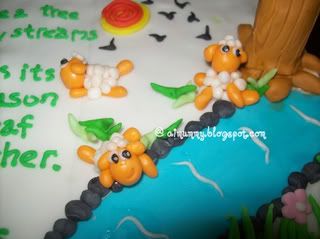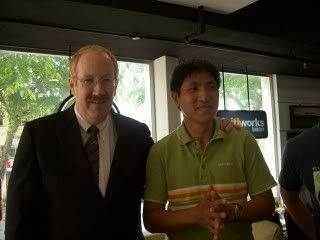 Wee Leng specially requested my 2 boys to hug Yong De to show her as she was unable to share this special moment with us ..