Love this 'Strawberry Heart Jelly Cheesecake' .. these were the 4th or 5th time that I made ..
This is a small one which I made for Mike's office prayer group member - Josephine's elder son's
birthday when we went to her house for their monthly fellowship .. wanted to contribute a dessert but Mike told me that it was also Jerald's birthday .. so cut out the strawberries to form the words by using a cutter and glad that they can be seen quite clearly :D
Dear Jerald ..
"Look at the beauty that surrounds us all. All life and nature created by our Lord
and you are too created just to be everything that God wants you to be. " © By M.S.Lowndes.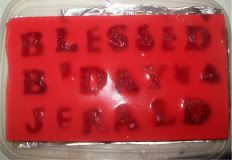 Made another cheesecake, but this time was for our church's Japanese Fellowship, am really
glad that they all love it as much as we do ..