After attending Bro Simon & Sis Audrey's invitation to little Josiah's baby shower celebration, rushed back home and started to work on the mickey cookies at about 5pm, it was so stressful in the beginning until I got the touch to make my work more simplified - it was already 9.15pm .. and finally all 30 pcs of cookies were completed at about 11.30pm.
Hi Kellie, the cup cake looks very NICE!! N it taste GREAT TOO (just right and not too sweet!!!)
many people are very impress with your creativity in the cuppies n cookies.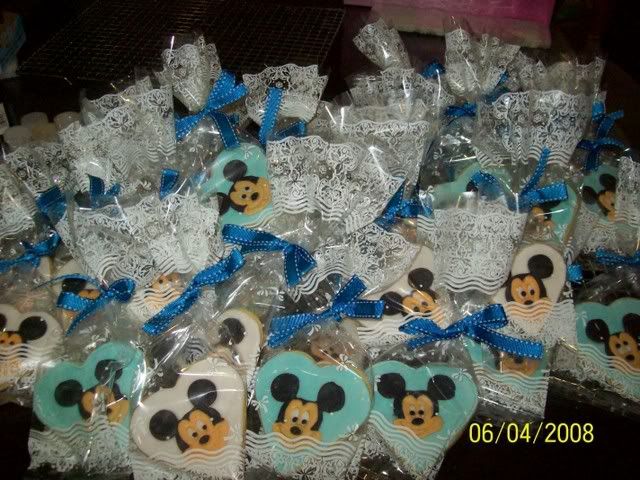 Susan gave me a last minute email to request for sugar paste toppers instead of plain cuppies with buttercream frosting, because those mickey pick-ups she ordered were not able to arrive in time. I did not have enough time to do them but really can't and don't have the heart to reject .. so after completed the cookies, I was like half-dead .. too wobbly-ly tired, slept around 12am and woke up at 4.30am to make the extra 12 pcs of toppers. PTL, HE is so good and I was able to complete everything including tying the ribbons for cookies and making breakfast ... all were ready before Mike and my boys woke up to get ready for our first service at Church.